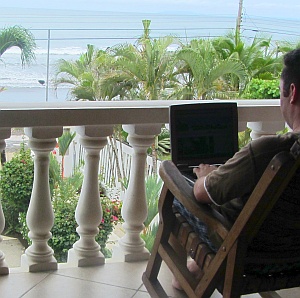 I recently hired my first full-time person and decided to go direct using Craigslist Philippines (story here).  While the person I hired was very smart, educated, had great experience, and was an amazing writer, he unfortunately was terribly unreliable. He never worked when he said he would and was horrible at tracking what he was doing and the time he was billing me for.
I re-posted my job again andhad a handful of new responses. One seemed very good and so after a few exchanges I offered her the job. It was especially nice that I could basically take all the emails I had sent to the last guy and send them to her… simply replacing his name. So far she's been everything my last guy wasn't… excellent at being prompt and working when she said she would. It's been a breath of fresh air!
Well, one of the first tasks I gave her was to write up an article about her experiences so far working online as a remote service provider / virtual assistant. I love reading these experiences because I think it's valuable to know the people with whom I'm working and too often I only read from the boss / "buyers" perspective. Below is her article… which I was very impressed with:
"For three years, I've always been a "social" kind of person, preferring to establish a career that requires me to put my greatest asset into good use: "communicating". I was the kind of person who would rather go out in the field than sit in front of the computer the whole day.  However, motherhood had changed my life and lifestyle more than I had expected and my preferences had also changed. Gone are the days of partying and dining with clients and going home late at night. So when I had the opportunity to change my career a year ago, I opted to go for something that will let me literally work closer to home, if not at home.
I've found my first online employer at <company>. It was a reputable real estate company in Australia and they are focused on promoting and selling houses of their affiliates. But even if they say that they are a reputable company, I have no other means of knowing if this is true or if they are legit. Working online has posted itself as a risk for me at first since it doesn't have stability and credibility that the corporate world can give you. There are a lot of scammers that exists online. This real estate company could be a scammer but I just had a great feeling with it that I was willing to risk my stable job.  So with a great deal of courage and faith, I started working online.  And guess what, I didn't regret it at all.
My first client was an Australian real estate company. My role in the company was a Marketing/Admin Suppor. I was in-charge of creating logos, creating brochures and other marketing collaterals, and other media kits for their new clients/affiliates. I was also in-charge of creating and sending webinar invitations and monthly newsletters. I learned a lot from them. They were the ones who encouraged me to learn about web designing with the help of Adobe Dreamweaver and learn more about social media management using Hootsuite.  It was indeed a great first online experience and I am very thankful for it.  Unfortunately, their company shut down and we had to part ways.
I also have an experience in contact generation and internet research for another client. My main role in this company was to profile companies and search for their IT contacts with the help of their corporate websites and Linkedin. I also have to provide the right email addresses and contact numbers, if applicable, of the IT contacts. We were given a target of ten companies per day with seven IT contacts each. Sometimes, guessing a contact's email address can be tricky and frustrating but it was definitely a great online experience. Unfortunately, there was a problem with my client's customers that he had to shut down our production.
One of my clients that I am still working for now is an online reputation and social media management company. I have used the skills that I had acquired while working for my first client in this job. The job requires me to schedule tweets and Facebook posts for their clients. I also do their monthly advertisements and post it in sites such as craigslist.com, sulit.com.ph, classifieds.ph, and the like.  I also do their social bookmarking once a month in sites such as pinterest, stumbleupon, reddit, and delicious.  This is just a part-time job though and just requires me to work for 1-2 hours per day.
Working online has opened me up to a whole new world of possibilities. It had helped me acquire new skills and develop my so-so IT knowledge. I've learned how to use Adobe Dreamweaver, Hootsuite, Google Docs, and Camtasia among others.
Working online has also given me the opportunity to earn a decent living without having to sacrifice the time I spend with my son and my family and work at the comforts of my own home.  With its flexible working hours, it allows me to manage my time more efficiently. 
Although there is the so-called instability of working online, the online lifestyle is working for me. I can therefore say that I, Kate Budke, has been virtual-lified."