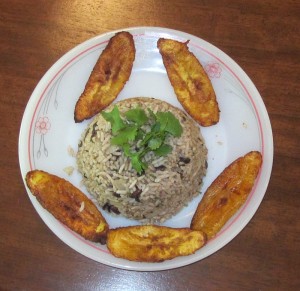 (Guest post by Mrs. Outsourced)
My husband and I recently returned from a trip to Costa Rica. I LOVE that outsourcing allows us so much freedom to travel and explore! We flew into San Jose and then stayed in Jaco and Playa Langosta before flying back home after two weeks. We had an incredible time seeing wildlife – gorgeous, brilliant flying Macaws, howler monkeys, sloths, crabs (everywhere!) – and experiencing another mode of life. We were amazed at how many people they fit on bikes there – and how they ride and walk in the streets with cars passing whenever/wherever they please. Traffic laws there are more like suggestions than rules. We loved the simple food found at the "Soda Tipico" stands all over – kind of like our "cafes". Our favorite thing to eat was a breakfast dish called "Gallo Pinto" or "painted/spotted rooster" which is just reheated white rice with red or black beans, sauteed onions, cilantro, and Salsa Lizano (kind of like a taco sauce). Usually it is served with fried plantains (SO good) and scrambled eggs. Occasionally cheese bread accompanies the dish.
We paid moderate prices for beachfront vacation rentals with two bedrooms (we traveled with another couple) and both places we stayed had security guards all night, groundskeepers, and housekeepers. While the food prices were surprisingly similar to the states – in the grocery stores as well as the restaurants, we found that the cost of labor in Costa Rica is SUPER low. The guards are typically paid $2/hour and keep watch all night to deter petty theft, which is quite common there.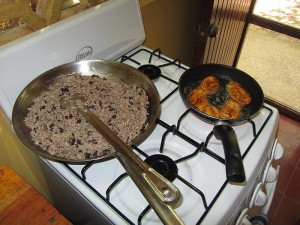 Our housekeeper – who came every other day to wash dishes, clean floors, surfaces, and bathrooms in addition to making beds, changing sheets and doing laundry – was paid $25 a week, which we learned is really generous for over there. We joked with our friends that it would be nice to hire someone to come in and cook our meals for us and then it actually ended up happening! One of the days our housekeeper, Flor, was working, we asked her for tips on how best to prepare a native dish, Gallo Pinto, as our attempts hadn't turned out quite right. She told us she'd help us make it and prepared everything right then and there, cheerfully talking about how everything was done. We talked to her about the cheese we had bought and how odd it was – it doesn't melt at all – but she had a great idea for how to use it, along with all the other things we had yet to use from our last shopping trip.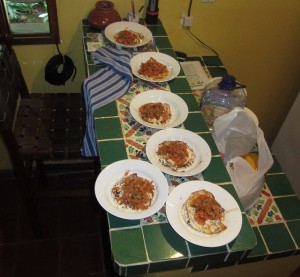 The next day she sent her daughter and a granddaughter over to prepare huevos rancheros and 8 plates were ready and waiting for us when we returned from surfing/boogie boarding at another beach. SO yummy. Or "rico" as they say in Costa Rica. 🙂 We tipped Flor from our own pockets for her assistance, but I do not know that this was expected.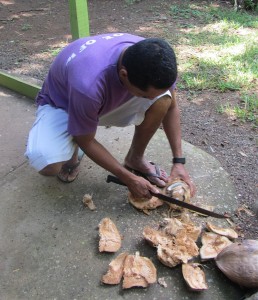 Another time we were able to use the hired help was when we wanted to try fresh coconut. We asked the groundskeeper where we could find some, he found some, shelled/husked it, poured out the coconut milk and cut it up for us. This was after he'd prepared our fresh sugar cane for us – which we got from some strangers on the beach who ran off into the jungle to find some for us with no mention of pay, though we gave them some money anyway. The gardener came every morning to remove dead flowers/leaves from the yard, water the plants and to sweep/rake. He cleaned up after the howler monkeys as well. 🙂 He was paid between $2-3/hour. We tipped him as a thank-you as well.
If we visit again we will definitely do more hiring of help to prepare our meals and if relocating here, it would be a wonderful idea to hire gardening, guarding, and housekeeping help. They will do fabulous work for not much cost to you.