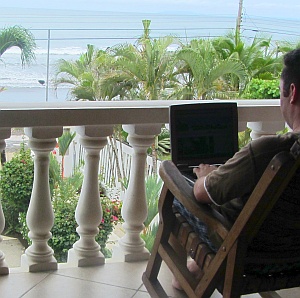 Anytime I begin a relationship with a virtual assistant I enjoy hearing about their background.  I ask them why they are working as a virtual assistant, what they like and don't like about providing remote assistant services, and where they see themselves in 3 – 5 years.   I've also found that most of the stories about outsourcing internationally that I've read are from the perspective of the buyer of virtual assistant services (people like me), but few are from their perspective.
A few weeks ago I dipped my toe into, and wrote about my first experience with the Amazon Mechanical Turk system.   Compared to my normal virtual assistant projects I never had a single conversation with the provider.  I didn't know their name, skill-set, background, geo location, nothing.    Well, for fun I decided I'd post a "HIT" (project on "MTurk") asking for a provider to write about their background and experience working with this system.   Below is what I received, and I was pleasantly surprised by the quality of the writing:
"My experience as a remote virtual assistant (Mturker)
First a little background about myself. I'm 37 years old, male, originally born in Taiwan but emigrated to the UK at the age of 10. I'd say my formative years were spent in the UK, but of course I still had it in me to relocate back to Taiwan later on (more about this later). I went through the UK education system completing a BSc. in Management and a MSc. in Information Systems. I then had an IT career in the UK and Europe, working for mostly large blue chip multinationals such as Andersen Consulting (now Accenture), EDS (now part of HP), BP and Pfizer. Most of these roles were short term contract roles, usually rolling contracts that were extended every 3 to 6 months, working on projects that on average lasted 1 to 2 years. So with this background in IT, and used to working on short term contract projects with more than 10 years of cumulative experience, I guess I'm more used to working as a remote virtual assistant than anyone else.
This was not the only reason I chose to become a remote virtual assistant, however. In 2006, due to personal reasons (I guess also mainly due to the fact that my wife is Taiwanese and her parents and long time friends are still in Taiwan), I relocated back to Taiwan. It was a big reverse culture shock at first, but eventually I managed to adjust to a different lifestyle and also different working environments. Although English was a major element of what was needed at work, I wouldn't say you'd be able to find a completely immersive English environment in Taiwan. In order to keep up my proficiency, I would seek good English media (TV, radio, press, magazines and books) and of course actively seek out opportunities to practice English, but I still felt that over time, it can only deteriorate rather than improve.
Working for Mturk was also a great way to retain my proficiency. Most tasks (at least the ones that I enjoy!) involve some form of writing or composition (like this one!) and most tasks specify that you need to be a native and good English speaker to complete the tasks. So as well as practicing my English, I also get the opportunity to earn some pocket money! How cool is that?
I've looked at a few other remote working companies such as eLance, ::oDesk("a")::, etc., but never really went for them. I guess the main reason was that they were not as easy nor immediate as the tasks on Mturk. Of course, Mturk pays a lot less too, but if your motivation is not 100% money (as mine wasn't) it shouldn't be a problem. What I also love most about Mturk was that on average, if you really concentrated and worked hard at the tasks, none of them should take more than 1 or 2 hours (even if you may have been allocated 4 to 6 hours to complete them).
Not everything is perfect though. Here are some of my gripes about Mturk.
1. US only! Why is everything so US centric? This is so annoying and to be honest discriminatory (whether direct or indirect).
2. Although the time limits are ample on Mturk tasks, sometimes if you get distracted with other things or if your computer crashes and you forgot to save, you won't have time to complete the task and will need to return it incomplete.
3. Some people are abusing the Mturk system by posting fake tasks to do. When you click on these links to find out more about the tasks to be done, you get redirected to another site which just seems to be advertising. You can also now spot these tasks more easily with titles such as "Quick easy sign up or test webpage". They are all fakes and the creator of these tasks are just simply trying to get hits to their advertising sites. Reporting these tasks as fakes doesn't seem to remove or ban them from the system. It seems they will just register a new account and post a similar task again.
Finally, what would I be doing in 1, 3 or 5 years' time? Well, as I'm only doing Mturk for a bit of fun, to earn a little pocket money as well as an opportunity to practice my English, I can't really see any changes in the near, mid and far future. As long as Mturk works, people keep on posts interesting tasks to be completed, I will complete them to the best of my ability. So here's to the next 10 years! Happy Mturking!"
So, what do you think?  Does this make you (as a potential buyer of services) more or less interested in hiring someone remotely?  Do you prefer this type of "no-contact" system or something more personal like ::oDesk("a")::
?